The Nebraska Game and Parks Commission and some of the state park areas, wildlife management areas, fisheries and trails it maintains were greatly impacted by recent catastrophic flooding. This is the most widespread damage the agency has experienced due to a natural disaster.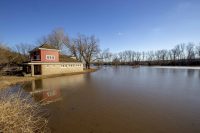 We are still working to evaluate the extent of the damage. However, we have taken some steps in order to begin the long process of repairing our impacted parks, wildlife management areas, trails and other areas.
Have you heard about our new Take 'em Hunting Challenge?
This fun promotion encourages experienced hunters to take a pledge to go hunting with someone who either has never hunted before or who hasn't hunted in several years. Hunters who take a photo of themselves taking someone hunting can enter an online drawing for dozens of prizes (NGPC employees are not eligible).
Here's where you can help. Tell your friends and family about it. Spread it on social media outlets. Most importantly, participate!
Whether you are a seasoned hunter or a novice, the Nebraska Game and Parks Commission is working on details that could allow you to be paired with a co-worker to participate in this challenge.
Hunting is fun, and hunters enjoy sharing their knowledge and passion with others – especially people they work with at Game and Parks.
Record your hunting adventures here.
Talk to Us
Please use the form below to confidentially communicate with your agency administration or report a problem:
NGPC in the News
River otters a success in state

on January 26, 2020 at 6:30 am

This past week, the Nebraska Game and Parks Commission approved removing river otters from the threatened and endangered species list in Nebraska.

Game and Parks bill on Resources Committee schedule

on January 26, 2020 at 12:00 am

This week's online legislative hearings include bills involving regional lawmakers to restrict Nebraska Game and Parks Commission land ownership and offer "behavioral awareness and training" for most ...

Grand funding will allow new ball field at park in Adams

on January 25, 2020 at 6:26 am

Big changes are in store for the park in Adams following multiple grants being awarded that will allow the community to add another ball field. It was announced on Wednesday by the Adams Community ...