Expense Reimbursement Changes Now in Effect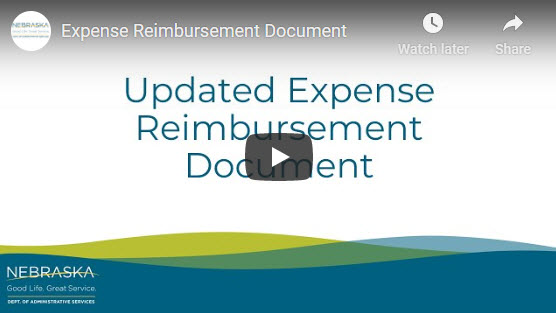 Effective January 1, 2021, we have moved to a per diem rate for expenses incurred during over night and one-day travel.  State Accounting Policies are being revised to reflect the change to per diem reimbursements.  The instructional video above explains the new changes.
A quick summary, our rules haven't really changed other than changing to the per diem rate for meals.  We are also increasing the threshold for immaterial items from purchases under $5 to under $10.  A receipt is not required for expenses under $10; however, you will need to substantiate the purchase on the ERD under the miscellaneous column.  Please be sure to put in a detailed description/use and amount of the purchase.  You may refer to the attached memo under "Receipts" for additional information on immaterial items.
IMPORTANT – Please submit any January expenses and expenses going forward, on the new expense reimbursement document provided. Any prior year expenses must use the old document.
Lunch and Learn Series
A Lunch & Learn Series is a new monthly virtual professional development opportunity for all Nebraska Game & Parks Commission staff statewide, and will consist of 45-minute Zoom seminars held the second Wednesday of each month at 12:30 p.m. (Central Time). Each seminar will be covering science and educational topics designed to provide relatable and transferable knowledge and skills for any and all NGPC employees serving in a variety of roles and divisions. This series was developed with the intention of helping to improve internal communications, and to help support and instill a culture of continued learning and development within our agency, as outlined in the Focus on the Future Strategic Plan.
Education, Interpretation, Outreach & Marketing
How do we define education, interpretation, outreach and marketing, and what role to they each play in promoting conservation and stewardship of Nebraska's natural resources? Join our first session in this Lunch & Learn series to learn more about our agency's common definitions of each approach, and how they work together to further our mission. First session is 12:30 p.m. to 1:15 p.m. Jan. 30, 2021. Register.
Nebraska Upland Slam Update
The Nebraska Upland Slam is in its third season, and participation has steadily grown with over 800 hunters from 26 different states participating to date. The slam was initiated to help improve upland hunter recruitment, retention, and reactivation, as well as raise awareness of Nebraska's excellent, mixed-bag opportunities and it seems to be making some lasting impacts. For example, during the first two seasons of the slam 156 hunters had the banner experience of harvesting a species for the first time in their lifetime. As of December 15, 2020: Total bird submissions: 675; Total hunters entered: 262 (NE residents-216, non-residents-46); Total number of finishers: 86; (NE residents-73, non-residents-13). Contest ends Jan.31 and the grand-prize winners will be drawn by PF in February.
Nebraska Duck Slam Update
The second year of the Duck Slam is off to a flying start. It has renewed a sense of excitement in the waterfowl world. The excitement about the challenge is coming from hunters targeting new species they would not otherwise pursue. Of harvests so far, 76 are first time for the hunters. Hunters also are taking advantage of public land opportunities with almost have of the harvests coming from public lands. The program also has been successful recruiting first-time hunters, youth, and reactivating waterfowl hunters. As of Dec. 15, the total verified duck submissions: 779; Total hunters entered: 283; (NE residents-259, non-residents-24) Total number of finishers: 104 (NE residents-95, non-residents-9). The contest will end Jan. 31, 2021, and Ducks Unlimited will draw the winner of the 12-gauge browning shotgun.
Improvements coming to Lake McConaughy
The Martin Bay boat ramp at Lake McConaughy State Recreation Area temporarily closed to public access Dec. 3. The closure came just ahead of a one-year, $3 million capital improvement project for the Martin Bay and Cedar View areas of the reservoir, slated to begin the week of Dec. 7. Read the news release for more.
New Conservation License Plates
Beginning January 1, Game and Parks will benefit from the sale of four new specialty license plates available at the DMV. The new plates will benefit the Wildlife Conservation Fund, whereas the mountain lion conservation plates benefit the conservation education fund. A new trail-themed plate championed by Bike/Walk Nebraska will benefit state parks' trails maintenance. Each plate will be $5 or $40 for a specialty plate
NGPC in the News